This was the third year hubs and I went to Sundance, and, as in trips past, we had tickets to the U.S. dramatic grand jury prize winner.
This year it was "Me and Early and the Dying Girl," also winner of the audience award.
It's the story of Greg, an awkward high schooler whose mom forces him to befriend Rachel, a classmate with cancer (why exactly mom does this, and why he's so compelled to actually do what she says, still bothers me about this flick). He's a quirky kid who films remakes of classic movies with his only friend, Earl, who he refers to as his colleague. It's not a teen romance nor does it delve much into Greg's relationship with his family. Most of the story focuses on Greg's time befriending Rachel. I won't give away any spoilers, but the movie does have "the dying girl" in its title.
I have a few problems with this movie.
1. Character development. Earl and the dying girl are two of the main characters, but they're very one-dimensional. I found it pretty offensive the way they cast Earl, the only black character, as a stereotype. He lives in the bad part of town, and the only thing we see of his life is his older brother who sits on the front porch with a pitbull (which is constantly trying to attack people). His most frequently uttered line is "those titties." Rachel is a similarly flat character. She has little personality, we don't know anything about her aspirations or desires and really we aren't even sure why Greg enjoys her company so much.
2. It tries so damn hard to be quirky. The main character makes remakes of classic films (but weird versions!). His dad wears a kimono and is always cooking some weird Southeast Asian dish! He confesses to a cute girl that he masturbated into a pillow! He spends lunch hours with his overly tattooed, pho-eating history teacher! I have a fair amount of contact with high schoolers. No one is this weird or interesting.
3. The kids with cancer genre, or "sick-lit." Remember those Lurlene McDaniel books? I read her books as a preteen. Typically they dealt with main characters who had chronic illnesses (the title of her books say it all: "Don't Die, My Love," "Til Death Do Us Part" and "Mourning Song"). Then there's "A Walk to Remember" where—spoiler alert—Mandy Moore dies!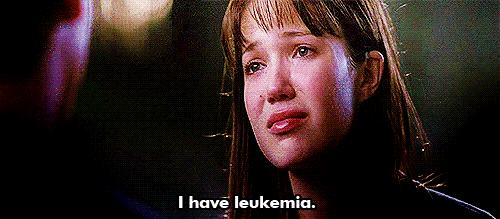 Add in "The Fault in Our Stars" and "The Red Band Society." It feels like an easy way to create drama—just add a dying child! Cancer is real, and those going through it should be able to see themselves depicted in film. But it feels exploitative. An easy way to elicit tears (of which there were many in our screening).
I only saw eight of the many films at Sundance this year, but "Me and Earl and the Dying Girl" was not the best one. To its credit, the movie has some genuinely funny moments. The boys accidentally trip on edibles. And supporting cast Molly Shannon and Nick Offerman make for a colorful background. Add to that the interesting shots and some animated cutaways, and it's pretty entertaining. I have no doubt it will be a commercial success.
But I won't be recommending it to anyone.